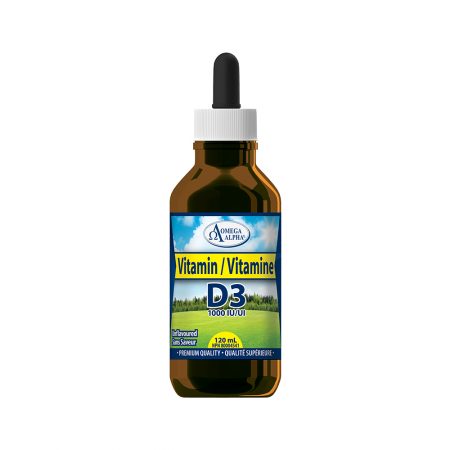 Vitamin D3 1000 IU
Vitamin D3 Adult Regular
1000 IU / Per 1 mL
50 mL/bottle (Orange Flavoured) – UPC 826913124714
120 mL/bottle (Unflavoured) – UPC 826913124707
NPN 80004541
RECOMMENDED USE: Helps in the normal development and maintenance of bones and teeth. A factor in the maintenance of good health.
INGREDIENTS PER 1 mL:
Vitamin D3 (Cholecalciferol) …………………………………………………………….25 mcg (1000 IU)
OTHER INGREDIENTS: Purified water, Sunflower Lecithin, Glycerin, Citric acid, Potassium sorbate, Sodium benzoate, Orange flavour.
RECOMMENDED SERVING: Adults: Take 1 mL (1000 IU) per day. Can be mixed with juice or water. Shake well before use.
CAUTION: Do not use if security seal is broken.
STORAGE: Store protected from light and moisture. Store away from children. Consume within six (6) months after opening.
ALLERGENS: Contains no dairy, yeast, corn, wheat or gluten.