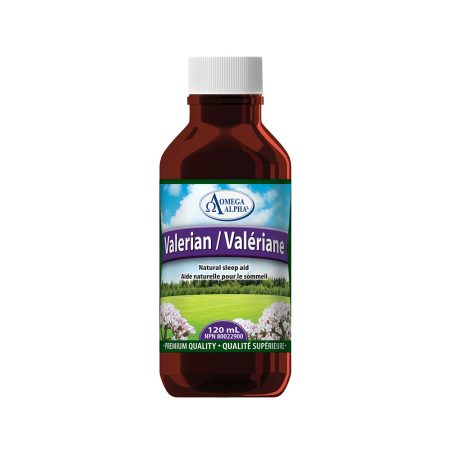 Valerian
Valerian
Natural Sleep Aid
120 mL/bottle – UPC 826913120952
NPN 80022900
RECOMMENDED USE: Helps relieve nervousness and promote sleep.
INGREDIENT PER ½ TEASPOON (2.5 mL):
Valeriana officinalis Extract 1:1 (Valerian Root)……………………….2.5 g
OTHER INGREDIENTS: Purified water and 20% Ethanol.
RECOMMENDED SERVING: Adults: Take a ½ teaspoon (2.5 mL) 1-3 times per day. As a sleep aid: Take a single dose 30-60 minutes before bedtime. Take an earlier dose during the evening if necessary. Can be mixed with juice or water. Shake well before use.
CAUTIONS: Consumption with alcohol, other medications or natural health products with sedative properties is not recommended. Sleep aid: Consult a health care practitioner if sleeplessness persists continuously for more than 3 weeks (chronic insomnia). Some people may experience drowsiness. Exercise caution if operating heavy machinery, driving motor vehicles or performing activities requiring mental alertness within 2 hours of consumption. Do not use if security seal is broken.
STORAGE: Refrigerate after opening. Store away from children. Consume within six (6) months after opening.
ALLERGENS: Contains no dairy, yeast, wheat or gluten.