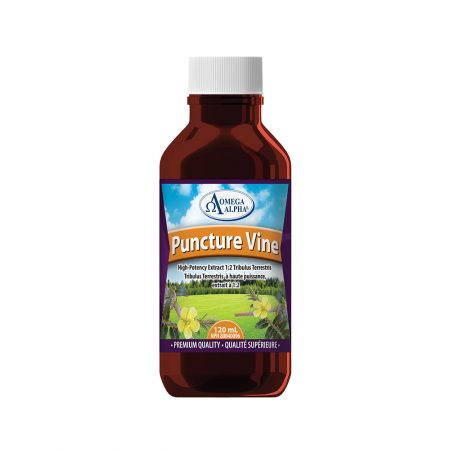 Puncture Vine Liquid
Puncture Vine
High Potency Extract 1:2 Tribulus Terrestris
120 mL/bottle – UPC 826913122208
NPN 80040096
RECOMMENDED USE: Traditionally used in Ayurveda as an aphrosidiac (Vrsya) for men, diuretic (Mutrala), and for relief of difficult/painful urination.
INGREDIENT PER 1 TEASPOON (5 ml) :
Tribulus terrestris Extract 1:2 (Puncture Vine Fruit) ………………5000 mg
OTHER INGREDIENTS: Purified Water, 25% Ethanol.
RECOMMENDED SERVING: Adults: Take 1 teaspoon (5 mL), four times per day with food. Can be mixed with juice or water. Shake well before use.
DURATION OF USE: For occasional use only (Mutrala/diuretic).
CAUTIONS: If you are pregnant, consult a health care practitioner prior to use. Diuretic effect and/or hypersensitivity/allergy have been known to occur. If this is the case, discontinue use and consult a health care practitioner. Do not use if security seal is broken.
STORAGE: Refrigerate after opening. Store away from children. Consume within six (6) months after opening.
ALLERGENS: Contains no dairy, yeast, wheat or gluten