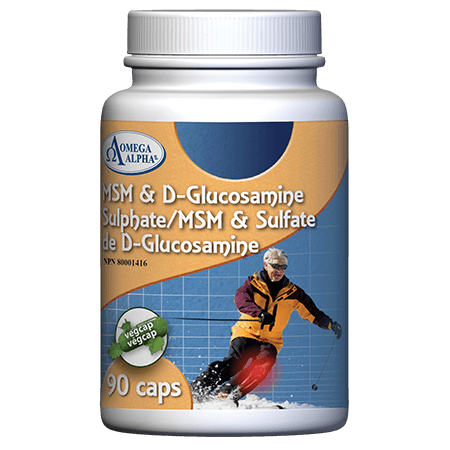 MSM & D-Glucosamine Sulphate
MSM & D-Glucosamine Sulphate
Protection against cartilage deterioration & pain associated with osteoarthritis
90 veg caps/bottle – UPC 826913121409
NPN 80001416
RECOMMENDED USE: Helps relieve osteoarthritic pain and protects against the deterioration of cartilage from chronic joint diseases. A factor in the building of healthy cartilage.
INGREDIENTS PER 1 CAPSULE:
D-Glucosamine sulphate (Shellfish Exoskeletons)…………….500 mg
Methylsulfonylmethane (MSM)………………………………………500 mg
OTHER INGREDIENT: Hypromellose (vegetarian capsule shell).
RECOMMENDED SERVING: Adults: Take 1 capsule three times per day with food.
DURATION OF USE: Use for a minimum of 2 months to see beneficial effects.
CAUTIONS: Do not use if you are pregnant or breastfeeding. Some people may experience mild gastrointestinal bloating, constipation or indigestion. Hypersensitivity/allergy has been known to occur, in which case discontinue use.
STORAGE: Store away from children. Store protected from light and moisture.
ALLERGENS: Contains no sodium chloride, dairy, yeast, corn, wheat or gluten.