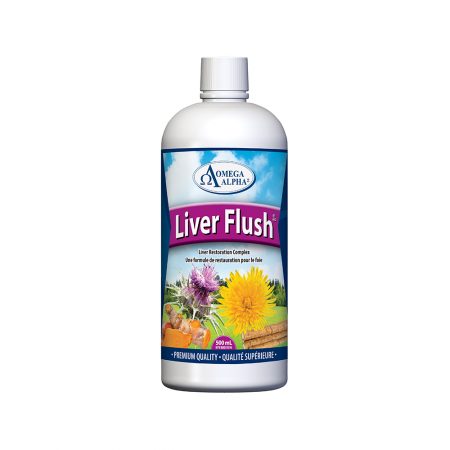 Liver Flush
Liver Flush®
Liver Restoration Complex
500 mL/bottle – UPC826913121706
NPN 80039596
RECOMMENDED USE: Liver Flush is used in Herbal Medicine to help support liver function.
INGREDIENTS PER 2 TABLESPOONS (30 ml):
Silybum marianum (Milk Thistle Seed)…………………………………………………3100 mg
Arctium lappa (Burdock Root)……………………………………………………………..2160 mg
Artemisia capillaris (Yi-chen Wormwood Shoot)……………………………………2160 mg
Gardenia jasminoides (Cape Jasmine Fruit)…………………………………………..2160 mg
Lycium barbarum (Goji Fruit)………………………………………………………………2160 mg
Taraxacum officinale (Dandelion Root)…………………………………………………2160 mg
Reynoutria multiflora, Syn. Polygonum multiflorum (Fleeceflower Root)…1680 mg
Curcuma longa (Turmeric Rhizome)……………………………………………………..1140 mg
OTHER INGREDIENTS: Purified water, Citric acid, Potassium sorbate, Sodium benzoate.
RECOMMENDED SERVING: Adults: Take 2 tablespoons (30 mL) once per day. May be taken with or without food. Can be mixed with juice or water. Shake well before use.
DURATION OF USE: Use for a minimum of 3 weeks to see beneficial effects.
CAUTIONS: Do not use if you are pregnant, breastfeeding; taking warfarin or other anticoagulants; have liver/gall bladder disorders, and/or bowel obstruction; allergic to Lycium barbarum berries, their constituents or to members of the Solanaceae family. Discontinue use and consult a health care practitioner if hypersensitivity/allergy occurs;
yellowing of the skin or whites of the eyes, dark urine, nausea, vomiting, unusual tiredness, weakness, stomach or abdominal pain, and/or loss of appetite occurs as these may be symptoms of liver disease. Consult a health care practitioner prior to use if you have high blood pressure, diabetes, gallstones/bile duct obstruction, stomach ulcers or excess stomach acid. Do not use if security seal is broken.
STORAGE: Refrigerate after opening. Store away from children. Consume within six (6) months after opening.
ALLERGENS: Contains no alcohol, glycerin, dairy, yeast, corn, wheat or gluten.