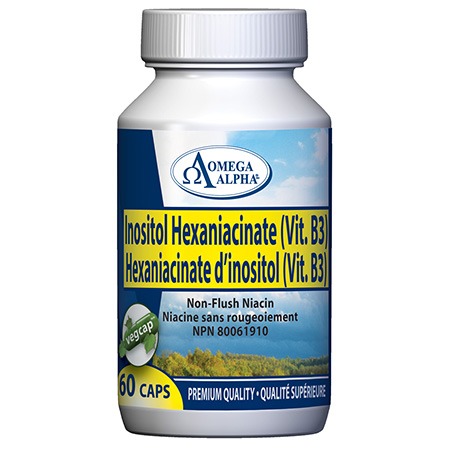 Inositol Hexaniacinate
Inositol Hexaniacinate (Vit. B3)
Non-Flush Niacin
60 veg caps/bottle – UPC 826913127609
NPN 80061910
RECOMMENDED USE: Helps the body to metabolize fats, carbohydrates, and proteins.
INGREDIENTS PER 1 CAPSULE:
Inositol hexanicotinate [myo-Inositol, hexa-3-pyridinecarboxylate]………..500 mg
Inositol……………………………………………………………………………………………..97.5 mg
Nicotinic acid…………………………………………………………………………………..402.5 mg
OTHER INGREDIENTS: Hypromellose (vegetarian capsule shell), Brown Rice Flour.
RECOMMENDED SERVING: Adults: Take 1 capsule once per day with food or as directed by your health care practitioner.
CAUTIONS: Do not use if you are pregnant, breastfeeding, or have a history of liver disease. If you are taking blood thinners/anticoagulants, consult a health care practitioner prior to use. If you develop symptoms of liver trouble (such as abdominal pain, dark urine, or jaundice), discontinue use and consult a health care practitioner. People sensitive to nicotinic acid may experience flushing of the skin that is generally mild and transient. Do not use if security seal is broken.
STORAGE: Store away from children. Store protected from light and moisture.
ALLERGENS: Contains no preservatives, dairy, yeast, wheat or gluten