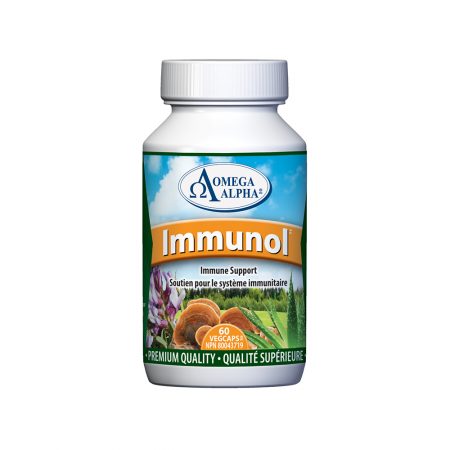 Immunol
Immunol
Immune Support Formula
60 veg caps/bottle – UPC 826913122659
NPN 80043719
RECOMMENDED USE: Used in Herbal Medicine to maintain a healthy immune system.
INGREDIENTS PER 1 CAPSULE:
Astragalus membranaceus (Astragalus Root)…………………….. 500 mg
Aloe vera (Aloe Leaf Gel)……………………………………………………150 mg
Ganoderma lucidum (Reishi Mushroom Fruiting Body)………..100 mg
Withania somnifera (Ashwagandha Root)……………………………100 mg
OTHER INGREDIENTS: Hypromellose (vegetarian capsule shell), Oryza sativa (Rice) Powder.
RECOMMENDED SERVING: Adults: Take 2 capsules twice per day with food.
DURATION OF USE: Use for a minimum of 4 weeks to see beneficial effects.
CAUTIONS: Do not use if you are pregnant or breastfeeding. Consult a health care practitioner prior to use if you suffer from an immune system disorder (e.g. Crohn's disease, multiple sclerosis, rheumatoid arthritis, etc.) or if you are taking immunosuppressants. Consumption with alcohol, other drugs or natural health products with sedative properties is not recommended. For use beyond 3 months: dizziness, irritated skin, nausea and diarrhea have been known to occur; in which case, discontinue use.
STORAGE: Store away from children. Store protected from light and moisture.
ALLERGENS: Contains no dairy, yeast, corn, wheat or gluten.