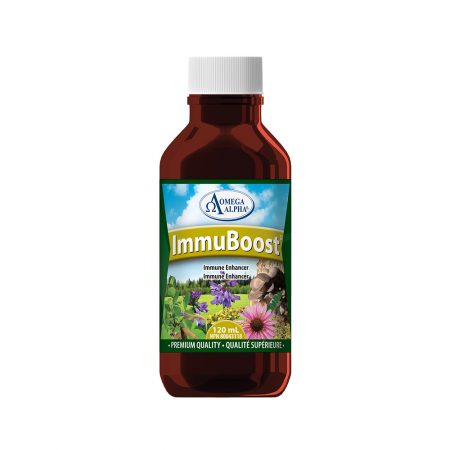 ImmuBoost
ImmuBoost®
Immune Enhancer
120 mL/bottle – UPC 826913120204
NPN 80043118
RECOMMENDED USE: Used in Herbal Medicine to support the immune system.
INGREDIENTS PER 1 TEASPOON (5 ml):
Astragalus membranaceus (Astragalus Root)…………………………. 1000 mg
Echinacea purpurea (Echinacea Herb Top)……………………………. 1000 mg
Eleutherococcus senticosus …………………………………………………….500 mg
Ganoderma lucidum (Reishi Mushroom Fruiting Body)……………1500 mg
Uncaria tomentosa (Cat's Claw Stem bark)………………………………1000 mg
Withania somnifera (Ashwagandha Root)………………………………..1000 mg
OTHER INGREDIENTS: Purified water, 20% Ethanol.
RECOMMENDED SERVING: Adults: Take 1 teaspoon (5 ml), twice per day with food. Can be mixed with juice or water. Shake well before use.
DURATION OF USE: Consult a health care practitioner for use beyond 1 month.
CAUTIONS: Do not use if you are pregnant, breastfeeding or allergic to plants of the Asteraceae/Compositae/Daisy family. Consult a health care practitioner prior to use if you have any type of acute infection, high blood pressure, progressive systemic disease (e.g. tuberculosis, leukosis, etc.); are taking immunosuppressants, anticoagulants or
antihypertensive medication; suffer from an immune system disorder (e.g. Crohn's disease, multiple sclerosis, rheumatoid arthritis, etc.). Discontinue use if you experience digestive upset or diarrhea. Consumption with alcohol, other drugs or natural health products with sedative properties is not recommended. Do not use if security seal is broken.
STORAGE: Refrigerate after opening. Store away from children. Consume within six (6) months after opening.
ALLERGENS: Contains no dairy, yeast, wheat or gluten.