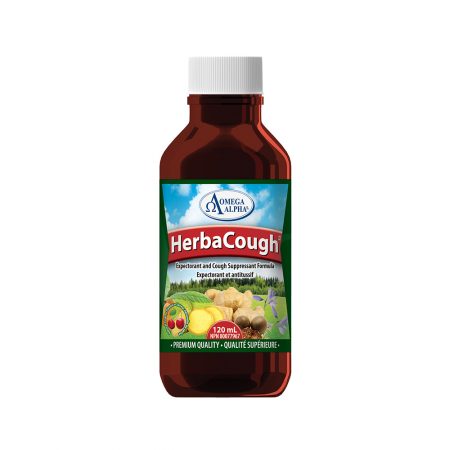 HerbaCough
HerbaCough
Expectorant and Cough Suppressant Formula
120 mL/bottle – UPC 826913112308
NPN 80077967
RECOMMENDED USE: Combination of Traditional Chinese Medicine Ingredients. Ginger is traditionally used in Herbal Medicine as an expectorant and antitussive to help relieve bronchitis as well as coughs and colds.
INGREDIENTS PER 1 TEASPOON (5 mL):
Eriobotrya japonica (Loquat Leaf ) [Pi Pa Ye]…………………………………………………………125 mg
Zingiber officinale (Ginger Root) [Gan Jiang]…………………………………………………………100 mg
Polygala tenuifolia (Thinleaf Milkwort Root) [Yuan Zhi]……………………………………………25 mg
Siraitia grosvenorii Syn. Momordica grosvenori (Monk Fruit) [Luo Han Guo] …………….21 mg
Fritillaria thunbergii (Thunberg Fritillary Bulb) [Zhe Bei Mu]……………………………………20 mg
OTHER INGREDIENTS: Purified water, Citric acid, Potassium sorbate, Sodium benzoate, Glycerine, Menthol, Cherry Flavour.
RECOMMENDED SERVING: Adults: Take 1 teaspoon (5 mL) 3-6 times per day. May be taken with or without food. Can be mixed with juice or water. Shake well before use.
DURATION OF USE: For prolonged use, consult a health care practitioner.
CAUTIONS: Do not use if you are pregnant or breastfeeding. If symptoms persist or worsen, or if new symptoms develop, discontinue use and consult a health care practitioner. Consult a health care practitioner prior to use if you have serious or major conditions, any type of acute infection (deficiency or excess) or are taking prescription medications. Do not use if security seal is broken.
STORAGE: Refrigerate after opening. Store away from children. Consume within (6) months after opening.