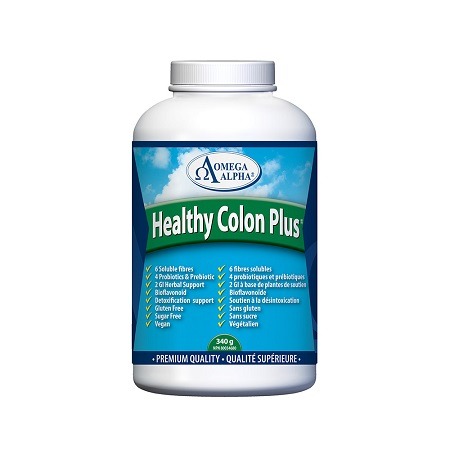 Healthy Colon Plus Powder
Healthy Colon Plus®
6 Soluble Fibres, 4 Probiotics & Prebiotic, 2 GI Herbal Support,
Bioflavonoid & Detoxification Support
340 g/bottle – UPC 826913121904
NPN 80034680
RECOMMENDED USE: Source of fibre for the maintenance of good health by acting as a bulk forming laxative. Provides gentle relief of constipation and/or irregularity. Source of probiotics that temporarily modify gut flora.
INGREDIENTS PER 1 TEASPOON (6 g):
Plantago ovata (Psyllium Husk & Seed)…………………………………….. 2500 mg
Pyrus malus (Apple Fibre Fruit)……………………………………………….. 1320 mg
Amorphophallus konjac (Glucomannan Tuber)…………………………. 1000 mg
Linum usitatissimum (Flax Seed)………………………………………………. 840 mg
Cichorium intybus (Inulin Root / Fructooligosaccharides)…………… 600 mg
Cyamopsis tetragonoloba (Guar Gum)……………………………………….. 600 mg
Althaea officinalis (Marshmallow Root)……………………………………… 456 mg
Hesperidin Fruit………………………………………………………………………. 150 mg
Ulmus rubra (Slippery Elm Stem Inner Bark)…………………………….. 144 mg
Bifidobacterium bifidum (Whole Cell-HA-132)………….. 150 Million CFU*
Lactobacillus acidophilus (Whole Cell-HA-122)…………. 150 Million CFU*
Lactobacillus casei (Whole Cell-HA-108)…………………… 150 Million CFU*
Lactobacillus plantarum (Whole Cell-HA-119)…………… 150 Million CFU*
*Colony Forming Units
OTHER INGREDIENTS: [Hypromellose (vegetarian capsule shell)], Sunflower Lecithin, Stevia.
RECOMMENDED SERVING:
Adults: Mix 1 teaspoon (6 g) with at least 315 mL of water or juice one to two times per day with food and at least 2-3 hours before or after taking antibiotics or other medications. Stir briskly and drink immediately. Avoid taking immediately before bedtime. Maintain adequate fluid intake. Taking Healthy Colon Plus® with insufficient liquid may result in choking and/or esophageal blockage/obstruction of the throat, esophagus or intestine. Effects observed 12-14 hours after first dose, and may take 2-3 days.
STORAGE: Do not refrigerate. Store away from children and protected from light and moisture.
ALLERGENS: Contains no preservatives, yeast, corn, wheat or gluten.
CAUTIONS: Do not use if you are pregnant, breastfeeding; have difficulty in swallowing, diabetes, immune-compromised condition; experiencing a sudden change in bowel habits that has persisted for more than 2 weeks; undiagnosed rectal bleeding, or failure to defecate following the use of another laxative product. If you experience chest pain, vomiting, difficulty swallowing or breathing after taking the product, seek immediate medical attention. If symptoms of allergy or diarrhea occur, worsen, or persist beyond 3 days or if laxative effect does not occur within 7 days, discontinue use and consult a health care practitioner. Consult a health care practitioner prior to use if you are taking any prescription medication or any medication which inhibits peristaltic movement (e.g. opioids, loperamide), or have symptoms such as abdominal pain, nausea, vomiting or fever. May cause temporary gas/flatulence, bloating, loose stools, diarrhea, and abdominal discomfort. This product may have come into contact with milk and/or soy. Do not use this product if you have a milk and/or soy allergy.