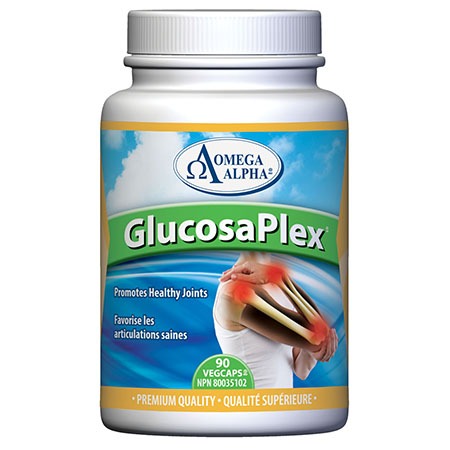 GlucosaPlex
GlucosaPlex®
Promotes Healthy Joints
90 veg caps/bottle – UPC 826913120051
NPN 80035102
RECOMMENDED USE: For the maintenance of good joint health.
INGREDIENTS PER 1 CAPSULE:
D-Glucosamine sulphate (Shellfish exoskeletons)……………………500 mg
Curcuma longa (Turmeric Extract) (95% Curcumin)………………..100 mg
Zingiber officinale (Ginger Root) …………………………………………..100 mg
Methylsulfonylmethane (MSM) …………………………………………….. 90 mg
Uncaria guianensis (Cat's Claw Bark) ……………………………………33.3 mg
Cellulase………………………………………………………………………………..10 mg (500 *FCC CU)
*Food Chemicals Codex Cellulase Units
OTHER INGREDIENT: Hypromellose (vegetarian capsule shell).
RECOMMENDED SERVING: Adults: Take 1 capsule three times per day with food.
DURATION OF USE: Use for a minimum of 1 month to see beneficial effects.
CAUTIONS: Do not use if you are pregnant or breastfeeding. Consult a health care practitioner prior to use if you are taking anti-inflammatory, enzyme products, blood thinners, anticoagulants, anti-hypertensive or anti-platelet medications; have gallstones, bile duct obstruction, diabetes, stomach ulcers, excess stomach acid or suffer from immune system disorders. Some people may experience mild gastrointestinal bloating, constipation or indigestion. Hypersensitivity/allergy has been known to occur, in which case discontinue use. Do not use if security seal is broken.
STORAGE: Store in airtight container, protected from light. Store away from children.
ALLERGENS: Contains no dairy, yeast, corn, wheat or gluten.