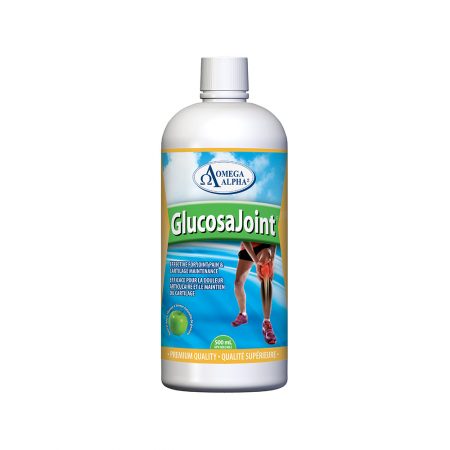 GlucosaJoint
GlucosaJoint®
Effective for Joint Pain and Cartilage Maintenance
500 mL/bottle – UPC 826913124257
NPN 80024063
RECOMMENDED USE: Effective in reducing joint pain associated with osteoarthritis. Helps to maintain healthy cartilage and joint health.
INGREDIENTS PER 1 TEASPOON (5 mL) :
D-Glucosamine hydrochloride (Shellfish exoskeletons)……………….500 mg
Methylsulfonylmethane (MSM) ………………………………………………..500 mg
Chondroitin sulphate (Bovine Cartilage) ……………………………………400 mg
Boswellia serrata Extract (Frankincense Resin) ………………………….150 mg
Curcuma longa Extract (Turmeric Rhizome) …………………………….. 150 mg
Manganese (Manganese sulphate) ……………………………………………1.67 mg
OTHER INGREDIENTS: Silicon (Sodium metasilicate), Purified water, Citric acid, Potassium sorbate, Sodium benzoate, Stevia, Natural Apple Juice Concentrate.
RECOMMENDED SERVING: Adults: Take 1 teaspoon (5 mL) three times per day with food. Shake well before use. Avoid taking at bedtime.
DURATION OF USE: Use for a minimum of 1 month to see beneficial effects.
CAUTIONS: Do not use if you are pregnant or breastfeeding. Consult a health care practitioner if symptoms worsen. Some people may experience mild gastrointestinal bloating, constipation or indigestion. Consult a health care practitioner prior to use if you have a liver disorder, gallstones or a bile duct obstruction, stomach ulcers or excess stomach acid. Do not use if security seal is broken.
STORAGE: Store away from children. Do not refrigerate. Consume within six (6) months after opening.
ALLERGENS: Contains no dairy, yeast, corn, wheat or gluten.