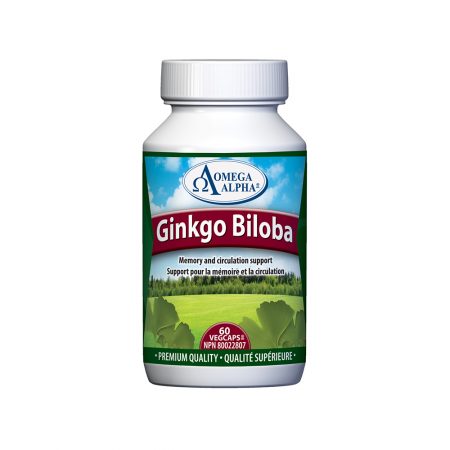 Ginkgo Biloba Capsules
Ginkgo Biloba
Memory and Circulation Support
60 veg caps/bottle – UPC 826913112506
180 veg caps/bottle – UPC 826913120853
NPN 80022807
RECOMMENDED USE: Helps enhance cognitive, memory function and support peripheral circulation.
INGREDIENT PER 1 CAPSULE:
Ginkgo biloba Leaf Extract *50:1
(Standardized 24% Flavonoid glycosides, 6% Terpene lactones) …………..60 mg
*Equivalent to 3000 mg of dried Ginkgo biloba leaf
OTHER INGREDIENTS: Hypromellose (vegetarian capsule shell), Oryza sativa (Rice) Powder.
RECOMMENDED SERVING: Adults: Take 1 capsule, two to three times per day. May be taken with or without food.
DURATION OF USE: Consult a health care practitioner for use beyond 6 weeks.
CAUTIONS: Do not use if you are pregnant or breastfeeding or taking health products that affect blood coagulation (e.g. blood thinners, clotting factor replacements, acetylsalicylic acid, ibuprofen, fish oils, vitamin E) as this may increase the risk of spontaneous bleeding. Consult a health care practitioner prior to use if you are taking medications for diabetes, high blood pressure, or seizures.
STORAGE: Store away from children. Store protected from light and moisture.
ALLERGENS: Contains no preservatives, dairy, yeast, corn, wheat or gluten.