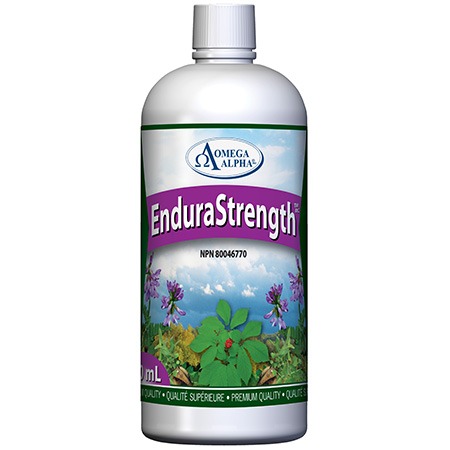 EnduraStrength
EnduraStrength
Stress, Stamina and Mental Fatigue
500 mL/bottle – UPC 826913125056
NPN 80046770
RECOMMENDED USE: Used in Herbal Medicine as an adaptogen to help temporarily relieve symptoms of stress (such as mental fatigue and sensation of weakness) and improve mental and/or physical performance after periods of mental and/or physical exertion.
INGREDIENTS PER 1 TABLESPOON (15 ml):
Panax quinquefolius (North American Ginseng Root)……………525 mg
Eleutherococcus senticosus ……………………………………………….460 mg
Astragalus membranaceus (Astragalus Root)……………………….225 mg
Codonopsis pilosula (Bellflower Root)…………………………………375 mg
Withania somnifera (Ashwagandha Root)……………………………150 mg
OTHER INGREDIENTS: Purified water, Citric acid, Potassium sorbate, Sodium benzoate, Stevia, Apple and Grape Flavours.
RECOMMENDED SERVING: Adults: Loading Dose: Take 2 tablespoons (30 mL), once per day for one week or one hour before activity.
Maintenance Dose: Take 1 tablespoon (15 mL), once per day as required. Can be mixed with juice or water. Shake well before use.
DURATION OF USE: Consult a health care practitioner for use beyond one month.
CAUTIONS: Do not use if you are pregnant, breastfeeding or have high blood pressure. Consult a health care practitioner prior to use if you have an auto-immune disorder, acute infection, diabetes, taking blood thinners or digoxin. Consumption with alcohol, other drugs or natural health products with sedative properties is not recommended. Do not use if security seal is broken.
STORAGE: Refrigerate after opening. Store away from children. Consume within six (6) months after opening.
ALLERGENS: Contains no dairy, yeast, corn, wheat or gluten.