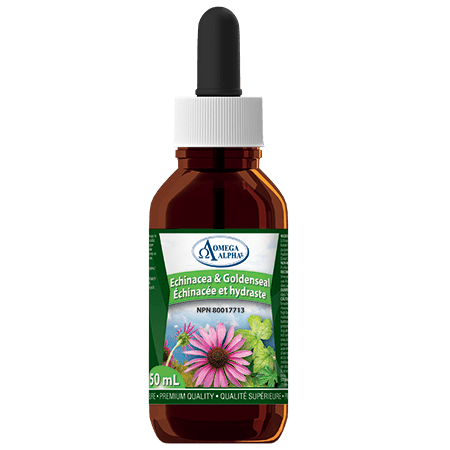 Echinacea & Goldenseal
Echinacea & Goldenseal
Cold and Flu
50 mL/bottle – UPC 826913112803
120 mL/bottle – UPC 826913126107
NPN 80017713
RECOMMENDED USE: Used as a supportive therapy in the treatment of upper respiratory tract infections (e.g. common colds) and helps to relieve the symptoms and shorten the duration of upper respiratory tract infections.
INGREDIENTS PER ¼ TEASPOON (1 mL):
Echinacea purpurea Extract 1:1 (Purple Coneflower Leaf & Root) ……1000 mg
Hydrastis canadensis Extract 1:5 (Goldenseal Rhizome)……………..200 mg
OTHER INGREDIENTS: Purified water and 20% Ethanol.
RECOMMENDED SERVING: Adults: Take ¼ teaspoon (1 mL) three times per day. Can be mixed with juice or water. Shake well before use.
CAUTIONS: Do not use if you are pregnant or breastfeeding. Consult a health care practitioner prior to use if you have rheumatoid arthritis, auto-immune disorders, progressive systemic disease, blood pressure, kidney disorder; taking any other medication such as immunosuppressants, sedative drugs and/or barbiturates. Consumption with
medications and/or natural health products with sedative properties is not recommended. Hypersensitivity (e.g. allergy) has been known to occur; in which case, discontinue use. Do not use if security seal is broken.
STORAGE: Refrigerate after opening. Store away from children. Consume within six (6) months after opening.
ALLERGENS: Contains no dairy, yeast, wheat or gluten.