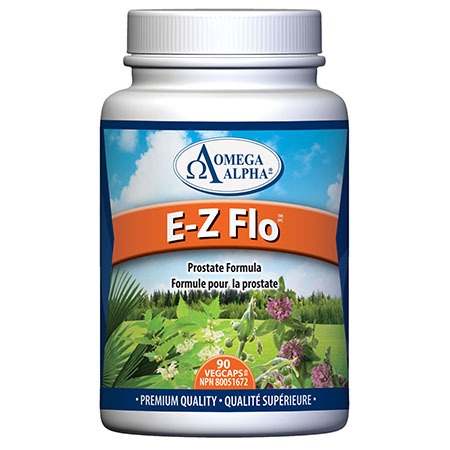 E-Z Flo
E-Z Flo
Prostate Formula
90 veg caps/bottle – UPC 826913120754
NPN 80051672
RECOMMENDED USE: For enlarged prostate.
INGREDIENTS PER 1 CAPSULE:
Serenoa repens
(Saw Palmetto Liposterolic Extract) (Standardized 85% Fatty acids) …….110 mg
Coix lacryma-jobi (Adlay Seed) ………………………………………………………….110 mg
Polyporus umbellatus (Zhuling Sclerotium) …………………………………………90 mg
Urtica dioica (Stinging Nettle Root) …………………………………………………….85 mg
Prunus africana (Pygeum Stem Bark Extract)(Standardized 15% Phytosterols) ……..80 mg
Cuscuta chinensis (Dodder Seed) …………………………………………………………50 mg
Medicago sativa (Alfalfa Leaf) ……………………………………………………………..45 mg
Cellulase ………………………………………………………………………………………….. 20 mg (3500 *FCC CU)
*Food Chemicals Codex Cellulase Units
OTHER INGREDIENT: Hypromellose (vegetarian capsule shell).
RECOMMENDED SERVING: Adult Males: Take 1 capsule per day with food.
DURATION OF USE: For use beyond 4 weeks, consult a health care practitioner.
CAUTIONS: Consult a health care practitioner prior to use to exclude a diagnosis of prostate cancer, are taking blood thinners or if you have a genitourinary system disorder. Do not use if you have a history of systemic lupus erythematosus, heart disease, high or low blood pressure, kidney or liver disorder, diabetes or edema (swelling of hands, face and feet) or are taking products containing diuretics. Stop use and seek medical attention immediately
if you experience dizziness, confusion, muscle weakness or pain, abnormal heart beat and/or difficulty breathing. If symptoms persist or worsen, consult a health care practitioner. Hypersensitivity/allergy has been known to occur, in which case discontinue use. Do not use if security seal is broken.
STORAGE: Store away from children. Store protected from light and moisture.
ALLERGENS: Contains no preservatives, dairy, yeast, corn, wheat or gluten.