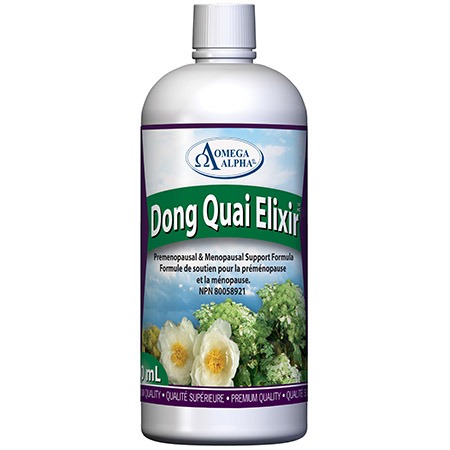 Dong Quai Elixir
Dong Quai Elixir
Women's Hormonal Formula
500 mL/bottle – UPC 826913115002
NPN 80058921
RECOMMENDED USE: Dong Quai Elixir™ is a combination of Traditional Chinese Medicine ingredients.
INGREDIENTS PER 1 TABLESPOON (15 mL):
Angelica sinensis (Chinese Angelica Root) (Dong Quai)………………………………………225 mg
Rehmannia glutinosa (Rehmannia Root) (Di Huang)………………………………………….135 mg
Paeonia lactiflora (White Peony Root) (Bai Shao Yao)………………………………………..112.5 mg
Ligusticum sinense cv. chuanxiong (Szechwan Lovage Rhizome)(Chuan Xiong)…….90 mg
OTHER INGREDIENTS: Purified water, Potassium sorbate, Sodium benzoate, Apple Flavour.
RECOMMENDED SERVING: Adults (Premenopausal & Menopausal Women): Take 1 tablespoon (15 mL) once per day or take 8 tablespoons [120 mL (approx. half a cup)] once per week or as directed by your health care practitioner. Can be mixed with juice or water. Shake well before use.
DURATION OF USE: For prolonged use, consult a health care practitioner.
CAUTIONS: Do not use if you are pregnant, breastfeeding or taking anticoagulant medications (may increase chances of severe bleeding). If you are taking prescription medications, consult a health care practitioner prior to use. If symptoms persist/worsen or if new symptoms develop, discontinue use and consult a health care practitioner. Do not use if security seal is broken.
STORAGE: Store away from children. Refrigerate after opening. Consume within six (6) months after opening.
ALLERGENS: Contains no dairy, yeast, wheat or gluten.